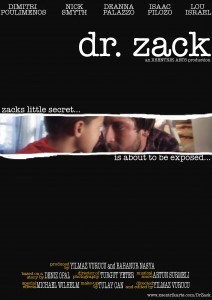 13 minute short film
produced in 2010 in London/Canada
Zack (seven years old) is studying medicine. A mysterious book thrusts him into a fantasy world, filled with definitions, symptoms and cures, while his mentor (Dr. Zack) guides him along the path to becoming a "great doctor". Although he fails to make sense of a dysfunctional family life and the harsh reality of his environment, he works hard towards finding a cure for his abusive father. Will Zack be able to attain his potential in a ruthless adult world?
---
official selections:
2011: Marbella International Film Festival/Spain
2012: Independent Days Film Festival/Germany
2013: Official Selection, World Kids International Film Festival, Mumbai, India.
---
awards:
2011: Nominated for 'Best Short Film' prize at the Marbella International Film Festival, came runner-up.
2011: Won the 'Viewer's Choice' award at the YIF online Film Festival.
Dr. Zack trailer:

Dr. Zack full movie: