Like Sweet Candy on facebook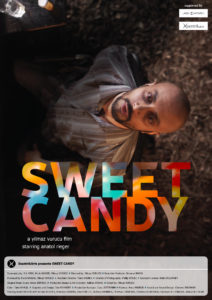 "You're listening now, aren't you," says a cold and nearly unconscious Andreas Wagner, over his live broadcast. Social media seems to have offered him a voice, transforming him into an unlikely Internet phenomenon when it least matters.
Running Time: 18 minutes (16 minutes without credits)
Format: HD
Made possible with financial support from:

Synopsis
"You're listening now, aren't you," says a cold and nearly unconscious Andreas Wagner, over his live broadcast. Isolated and full of desperation, he's decided to air his last words, together with some extremely valid grievances. His views strike a chord with some while attracting the wrath and disdain of others, yet one fact is undeniable: he has become an unlikely internet phenomenon when it least matters. When the next big viral hit wears off, can a concerned few help save him, so he can live to tell his story another day?
Director's Statement
There are no constants, that much is a given. The only constant is that we're in a state of constant cultural, technological, social and political transformation.
Yet, it is for the first time during my lifetime that I feel like an isolated stranger, intentionally left out of the main event, not sent an invite to the after party. From the U.S. to Europe and Britain, the rise of pragmatic populist movements are gaining momentum, utilizing rhetoric that a few years ago would have been inconceivable. It is not a coincidence that the rise of such a state coincides with the domination of social media and our new virtual culture. Hiding behind a cloak of anonymity, the propagation of the most extreme of ideologies is possible. "Choose your religion, chose your nation, chose your border, chose your side, chose us. Vote for us, believe in us as we fill up our pockets and tell you to hate." Says Andreas Wagner in the film.
Sweet Candy is about a man who has given up all hope, and just wants to have his last say before he departs from what he thinks is, a bleak world. Yet he unexpectedly becomes an instant viral sensation, and people from around the world tune in. As is the case on social media, most are there for the thrill of the ride, ignoring the plight of a real human.
The style of the film is thus hinged upon the conflict between the bleak world Andreas Wagner lives in and the active and lively fast paced world of social media. This was a difficult one to complete; we over-reached and went beyond the constraints of our budget or available resources. Sweet Candy is truly a work of passion, created thanks to the efforts of a dedicated team. I hope you find it enjoyable, gripping, and thought provoking.
---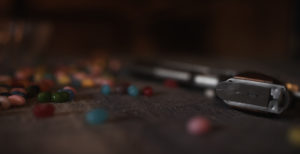 CAST
Anatol Ali Rieger………………….Andreas Wagner
Nicolai Tegeler…………………….Blogger in Berlin
Christian Schiesser………………Policeman
Christina Cervenka………………University Student
Tristan Nitzsche…………………..Teenager
Rebekka Damjani………………..Shopper in Paris
Daniel Hetze……………………….Gym Rat
Also including: Juliette Patton, Isabelle Patton, famous Azeez, Philip Martin, John McEnroe, Barbara Brunner, Christian Weittenhiller, Kateryna Raykova, Anna Setyavina, Rudolf Kabas, Czeslaw Filipak, Lea Lassnig, Elisa Hahn, Barbara Tösch, Christoph Bittenauer, Bibiane Hafner, Konstantin Auer, Nina Brezina
CREW
Directed by: Yilmaz Vurucu
Executive Producer: Bahanur Nasya
Producers: Mario Kainer, Yilmaz Vurucu
Written by: R.V. King, Mario Kainer, Yilmaz Vurucu
Director of Photography: Phillip Wölke
Assistant Camera: Kalle Kallovsky
Original Music Score: Artun Sürmeli
Production Designer & Art Director: Aslihan Atayol
Sound & Sound Design: Clemens Baumann
Color, Tracking & Keys: Taleb Khalil
Graphic Design and Poster: Tom Pohnert
Editing & Post: Yilmaz Vurucu
PRODUCTION DATES
Pre-Production: February-May 2016
Production: April 16-17, April 23-24 and May 2-4 (7 days)
Post Production: June 1, 2016-March 29, 2017
TECHNICAL INFORMATION
Cameras: Red Scarlett, Sony a7s
Shooting format: 2.5 K, 4K, 5K
Language: English
Frame rate: 25fps